The author-editor of the book "Who likes the Jews? Hungarian Philosemitism" and of this website, Andre (Endre) MOZES is shown below in the popular Hungarian ATV TV station's morning cultural program, START (with Egon Rónai), talking about his book, and the question, Why to deal with the Hungarian philosemitism?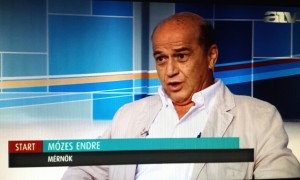 Mozes is an engineer and MBA,  living in Israel and working most of his life as design engineer and project manager of huge technological projects; today instructs multidisciplinary postgraduate projects in the Technion Institute of Technology, Haifa.
In the year 2000 he founded and runs since the multilingual (18) grassroots organization, Take A Pen for Truth on Israel, or briefly: TakeAPen – www.takeapen.org – for the defense of Israel in front of the well-organized and well-funded hostile propaganda attacks, and for other international humanistic initiatives. TakeAPen's campaigns proving the falsity of the infamous accusations of Israel with the death of the Palestinian boy Muhammad Al-Durrah and its petitions "Hamas Leaders to trial for war Crimes" in 2009 and 2014 were supported by more than 100,000 signatures from 70 countries.
Since 2012 Mozes' focus is on this New Philosemitism  Program. Its first project has been Hungary, which, after the research project and writing-publishing his book, aims at actual applications of the co-existential philosemitism concepts in the Hungarian society, in close cooperation with the Jewish leadership and government circles there. Recently he works on the expansion of similar research and book projects in  Poland, Slovakia, Czechia and further countries in Europe.