Please note!
(We have only started to renew this website, by adding our till now most important chapter of our whole activity: about the book NEW PHILOSEMITISM PARADIGM by Andre (Endre) MOZES – (published right now, April 2023)
A video of the new book handed to the pope
Our first item here below is a video, showing how the book was presented and handed over to POPE FRANCIS on 30 April 2023, the last day of his visit in Budapest, Hungary, by Andras HEISLER, the President of the Jewish communities of Hungary (MAZSIHISZ).
The two main endorsements of the book, on its back cover, were written by Cardinal Péter ERDŐ, Archbishop of Esztergom-Budapest and Primate of Hungary, and Andras Heisler.
The new book's cover
---
The Revival of Philosemitism in Europe

beside sincere Holocaust remembrance and vigilance against Antisemitism,
we should pay more attention to rich traditions and future potentials of Philosemitism;
good coexistence, cooperation and friendships between Jews and gentiles – in the right proportions
Our Philosemitism Forum's – and this website's – purpose is not at all to forget the Holocaust or deny the existence of Antisemitism**; we do not say that Philosemitism is the ruling sentiment. What we do say is that, we should keep in mind and foster the good sides of Jewish-gentile coexistence too, because they are also true, and they are the hope.
Yes, this website is about Philosemitism – a word almost forgotten – and not about Antisemitism**, everywhere spoken about. Philosemitism has many meanings, even contradictory ones; we selected and shall speak about the meaning of good coexistence, mutual interest in each other, dialogue, useful cooperation and even friendship between Jews and non-Jews.*** [Attention: we've redefined the word Philosemitism; we use its positive meanings only – as Wikipedia that is public wisdom also does – and ousted the old negative versions; the usage of the word had faded out anyway. ]
This website is the internet gateway of Philosemitism and our relating projects; researching, re-introducing and reviving in Europe this word and this concept. Our practical goal is, to raise awareness of the better sides of coexistence between Jews and non-Jews – we call Philosemitism – and to promote it in practice; first in East-Central Europe, then in entire Europe.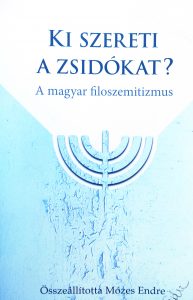 We are doing a series of research projects and popular-scholarly books in Europe to promote this concept. Our greatest achievement till now is the book: "Ki szereti a zsidókat? A magyar filoszemitizmus" / – (Who likes the Jews? Hungarian Philosemitism – Endre MOZES at al., Noran Libro, Budapest 2014, 368pp ). Beside my concepts and several other own writings I invited some 25 renowned contemporary Hungarian co-authors who wrote about as many aspects of the subject.**** Scores of favourable media reflections has been received and, even more significantly, actual applications in education – like in the mandatory course of Holocaust education in the Pazmany Peter Catholic University of Hungary – are in progress. But of course still a long way to go until philosemitism becomes a household word – and value – in Hungary and elsewhere.
The profoundly revised and "globalised" English version, THE NEW PHILOSEMITISM PARADIGM is ready and its international publication is in progress. Publication is scheduled for the first months of 2022.
The first reaction to our projects is, usually, surprise: Why Philosemitism??? We hear more about Antisemitism, don't we?
Read more…

*E. Mozes, d-05, 2021 Oct16
** Out of the numerous existing spellings we knowingly prefer 'Antisemitism' and 'Philosemitism'.